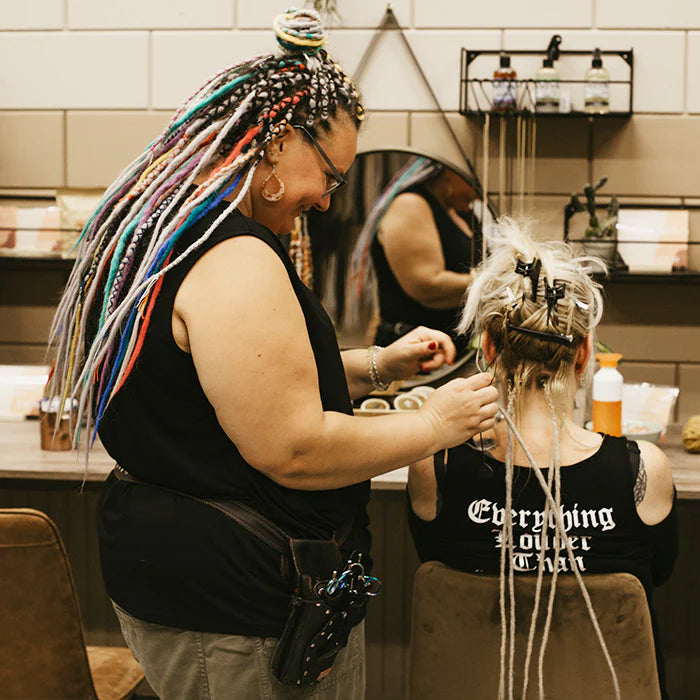 Appointment Maintaining Real Dreads (deposit) - With our Affiliate: Thera
Super that you would like to make an appointment for maintaining your Real Dreads in the salon of Dreadshop! We will be ready for you on the date and time you booked.

Please be aware that you are booking an appointment with our Dutch affiliate Thera, the appointment will take place in the Dreadshop salon.
Our Affiliates have followed our Professional Dreadlock Stylist Course and work with the same techniques for maintaining dreads.

To schedule the appointment, we ask you to make a deposit. The amount of the down payment will be deducted from the total amount of your appointment.
The deposit is also a deposit. If you cancel or reschedule the appointment less than 3 working days in advance, this deposit will unfortunately not be refunded.
The appointment will take approximately 3 hours.
When your appointment is successfully booked you will receive an email from us for confirmation. It is possible that this will come in your spam inbox. If you don't receive an email then something has probably gone wrong, in that case send us an email: salon@dreadshop.com
Note: Unfortunately you cannot use a discount code when purchasing this product. If you do enter a discount code at the checkout, we are forced to cancel your appointment immediately.