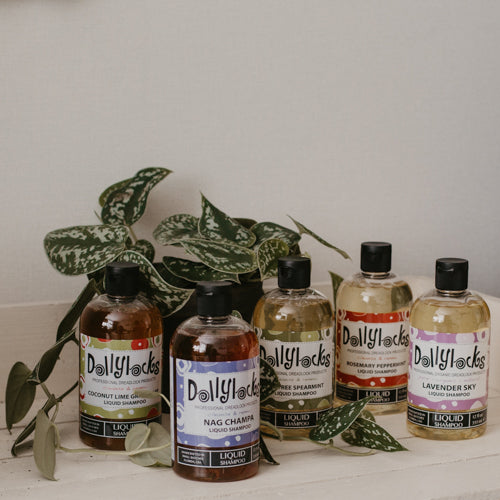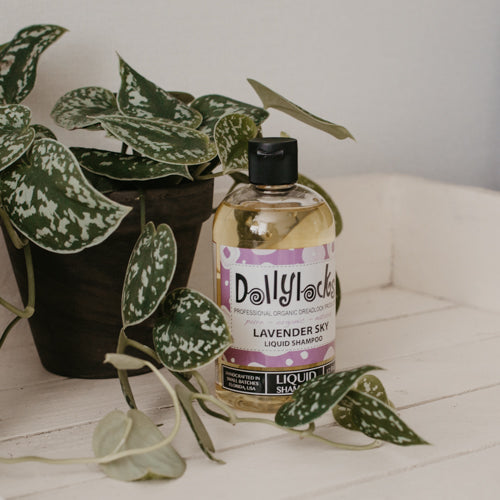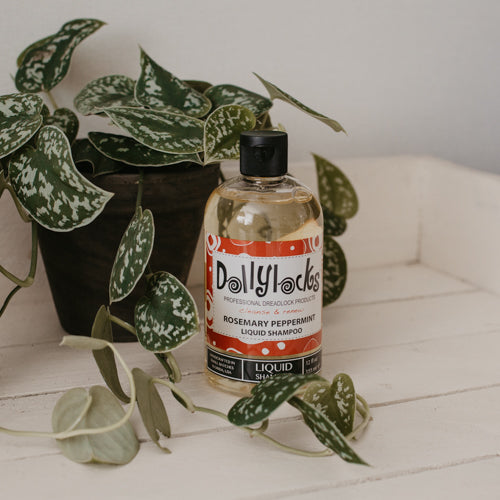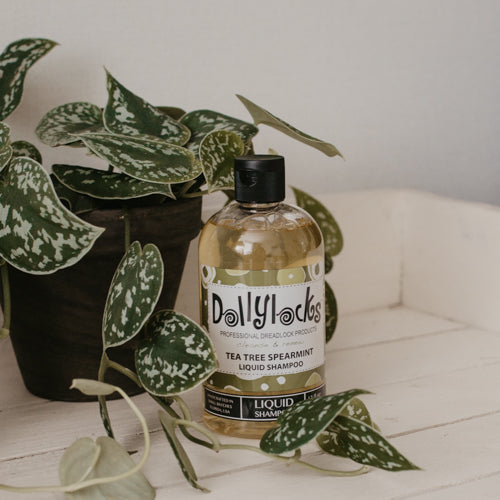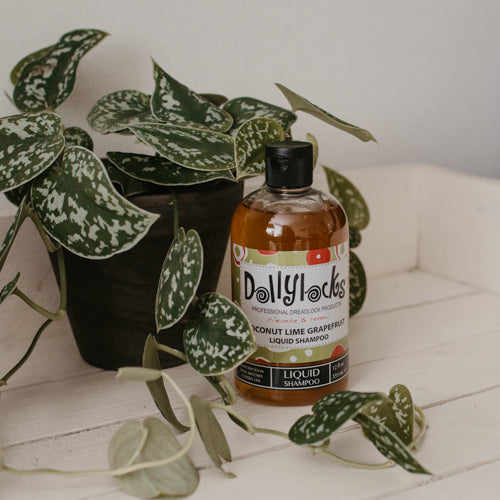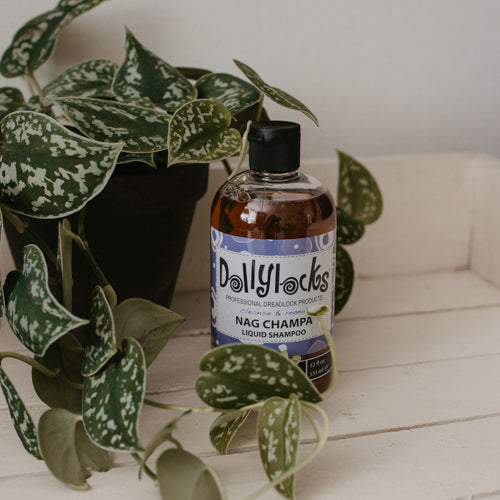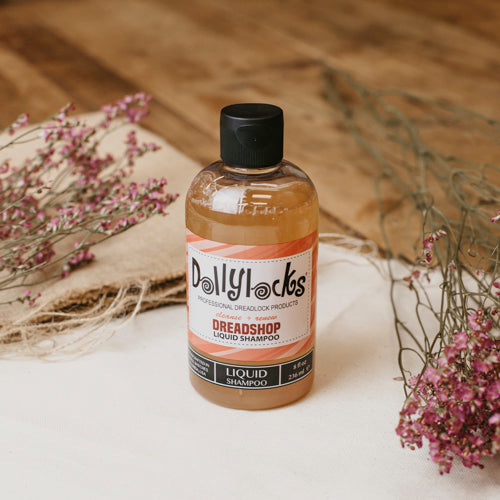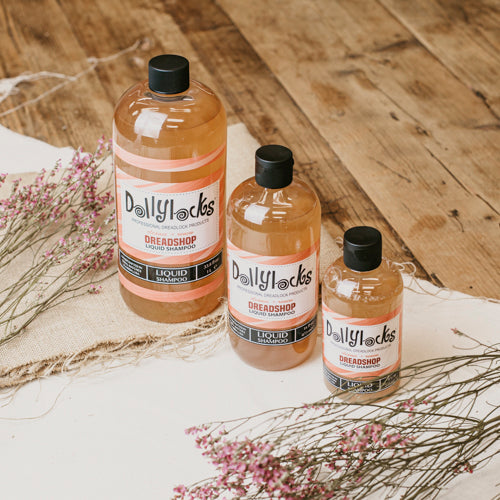 Dollylocks Dreadlock Shampoo
Shampoo for Dreads
It's great to use a shampoo from Dollylocks for washing your Dreads. With this shampoo, available in different scents, your Dreads will become nice and clean! The Liquid Shampoo from Dollylocks is especially developed for Dreads of your own hair. This Liquid Shampoo contains only natural ingredients, that not only cares for your Dreads, but also your scalp.
The Liquid Shampoo also contains nourishing oils, the shampoo is hypoallergenic and pH balanced.
Takes care of your Dreads
Make your hair/Dreads wet before using the shampoo.
Massage the shampoo on the scalp and the base of the Dreadlocks and into the tips.
Squeeze your Dreadlocks for a thorough cleanse to get all the dirt out of your Dreads.
After that rinse your scalp and your Dreadlocks thoroughly with water.
Do you want to give your Dreads a proper nourishing cleanse? Choose one of the lovely shampoo scents!
Content: 8 FL OZ / 16 FL OZ / 33.8 FL OZ - 236 ml / 470 ml / 1000 ml
<p>This Liquid Shampoo contains only natural ingredients, that not only cares for your Dreads, but also your scalp.&nbsp;</p><p>The Liquid Shampoo also contains nourishing oils, the shampoo is hypoallergenic and pH balanced.&nbsp;</p><p>&nbsp;</p><p>Available in different scents:&nbsp;</p><ul><li>Nag Champa&nbsp;</li><li>Tee Trea&nbsp;</li><li>Coconut Lime&nbsp;</li><li>Grapefruit&nbsp;</li><li>Rosemary Peppermint&nbsp;</li><li><p>Lavender Sky&nbsp;</p><p>&nbsp;</p><p>Dreadshop Available in different sizes:&nbsp;</p><p>- 33.8 FL OZ / 1000 ml&nbsp;</p><p>- 16 FL OZ / 470 ml&nbsp;</p><p>- 8 FL OZ / 236 ml&nbsp;</p><p>&nbsp;</p><p>Ingredients:&nbsp;</p><p>Coconut Lime Grapefruit: Sodium Cocoate (Saponified Coconut Oil)*, Potassium Olivate (Saponified Olive Oil)*, Potassium Jojobate (Saponified Jojoba Oil)*, Glycerin, Cyamopsis Tetragonoloba (Guar Gum)* Rosmarinus Officinalis (Rosemary) Flower Extract, Aloe Barbadensis Leaf Juice*, Aqua (Water/Eau), Limonene, Parfum/Fragrance, Citrus Aurantifolia (Lime) Oil, Citrus Paradisi (Grapefruit) Peel Oil, Citrus Grandis (Grapefruit) Seed Extract, Benzyl Salicylate, Benzyl Benzoate, Citral, Eugenol. *Derived from organic sources. Natural constituent of essential oils listed.&nbsp;</p><p>&nbsp;</p><p>Lavender Sky: Ingredients: Sodium Cocoate (Saponified Coconut Oil)*, Potassium Olivate (Saponified Olive Oil)*, Potassium Jojobate (Saponified Jojoba Oil)*, Glycerin, Cyamopsis Tetragonoloba (Guar Gum)* Rosmarinus Officinalis (Rosemary) Flower Extract, Aloe Barbadensis Leaf Juice*, Aqua (Water/Eau), Limonene, Parfum/Fragrance, Citrus Aurantifolia (Lime) Oil, Mentha Piperita (Peppermint) Oil, Citrus Grandis (Grapefruit) Seed Extract*, Linalool, Citral. *Derived from organic sources. Natural constituent of essential oils listed. Nag Champa: Ingredients: Sodium Cocoate (Saponified Coconut Oil)*, Potassium Olivate (Saponified Olive Oil)*, Potassium Jojobate (Saponified Jojoba Oil)*, Glycerin, Cyamopsis Tetragonoloba (Guar Gum)* Rosmarinus Officinalis (Rosemary) Flower Extract, Aloe Barbadensis Leaf Juice*, Aqua (Water/Eau), Parfum/Fragrance, Benzyl Benzoate, Citrus Grandis (Grapefruit) Seed Extract*, Citronellol, Coumarin, Alpha Isomethyl Ionone, Linalool. *Derived from organic sources. Natural constituent of essential oils listed.&nbsp;</p><p>&nbsp;</p><p>Rosemary Peppermint: Ingredients: Sodium Cocoate (Saponified Coconut Oil)*, Potassium Olivate (Saponified Olive Oil)*, Potassium Jojobate (Saponified Jojoba Oil)*, Glycerin, Cyamopsis Tetragonoloba (Guar Gum)* Rosmarinus Officinalis (Rosemary) Flower Extract, Aloe Barbadensis Leaf Juice*, Aqua (Water/Eau), Rosmarinus Officinalis (Rosemary) Leaf Oil, Mentha Piperita (Peppermint) Oil, Citrus Grandis (Grapefruit) Seed Extract*, Limonene, Linalool. *Derived from organic sources. Natural constituent of essential oils listed. Tea Tree Spearmint: Ingredients: Sodium Cocoate (Saponified Coconut Oil)*, Potassium Olivate (Saponified Olive Oil)*, Potassium Jojobate (Saponified Jojoba Oil)*, Glycerin, Cyamopsis Tetragonoloba (Guar Gum)* Rosmarinus Officinalis (Rosemary) Flower Extract, Aloe Barbadensis Leaf Juice*, Aqua (Water/Eau), Melaleuca Alternifolia (Tea Tree) Leaf Oil, Mentha Viridis (Spearmint) Leaf Oil, Citrus Grandis (Grapefruit) Seed Extract*, Limonene. *Derived from organic sources. Natural constituent of essential oils listed.&nbsp;</p><p>&nbsp;</p><p>Dreadshop: Ingredients: Sodium Cocoate (Saponified Coconut Oil)*, Potassium Olivate (Saponified Olive Oil)*, Potassium Jojobate (Saponified Jojoba Oil)*, Glycerin, Cyamopsis Tetragonoloba (Guar Gum)* Rosmarinus Officinalis (Rosemary) Flower Extract, Aloe Barbadensis Leaf Juice*, Aqua (Water/Eau), Rosmarinus Officinalis (Rosemary) Leaf Oil, Mentha Viridis Leaf Oil (Spearmint), Citrus Grandis (Grapefruit) Seed Extract, Glycerin, Cymbopogon Flexuosus (Lemongrass) Oil. *Derived from Organic Sources</p></li></ul>
✓ Always shipped with Track & Trace information
✓ Shipped from the Netherlands

✓ Quality is priority number 1
✓ Average 4,9/5 in reviews
✓ Return period: 30 days