Buy Henlon hair for your Dreads, come to Dreadshop
Make your own Dreads, Braids, Dutch Braids or any other fun Hairstyle!
In our range you will find Synthetic Henlon Hair. There is also a choice of Ombré colors in the Synthetic hair.

Since 2019, in close consultation with our manufacturers, we have switched to shipping synthetic hair without plastic packaging. This means that your order will be shipped in a braided tail with only a paper label attached.

We are proud to be the first company in the whole world to do this!
Synthetic Henlon Hair without chemical coating
Dreadshop only works with Synthetic Hair of high quality and that is why we continuously set high standards for the Synthetic Hair that we offer in our range.
Our Henlon Hair does not contain a chemical coating, something that we find extremely important.
Our experience is that this chemical coating can irritate your scalp. And that's exactly what you don't want when you braid in this hair!
Human Hair available in different natural shades
In our range you will additionally find the best quality Human Hair. Our Human Hair is highly suited for extending your own Dreads, but it can also perfectly be used to make Human Hair Dreadlock Extensions yourself.
In many cases, our own hair does not consist of one color, almost everyone has different color pigments in the hair. This sometimes makes a good color choice a bit difficult. For this reason I have chosen to work with as many natural shades as possible. These natural shades go well with many hair colors.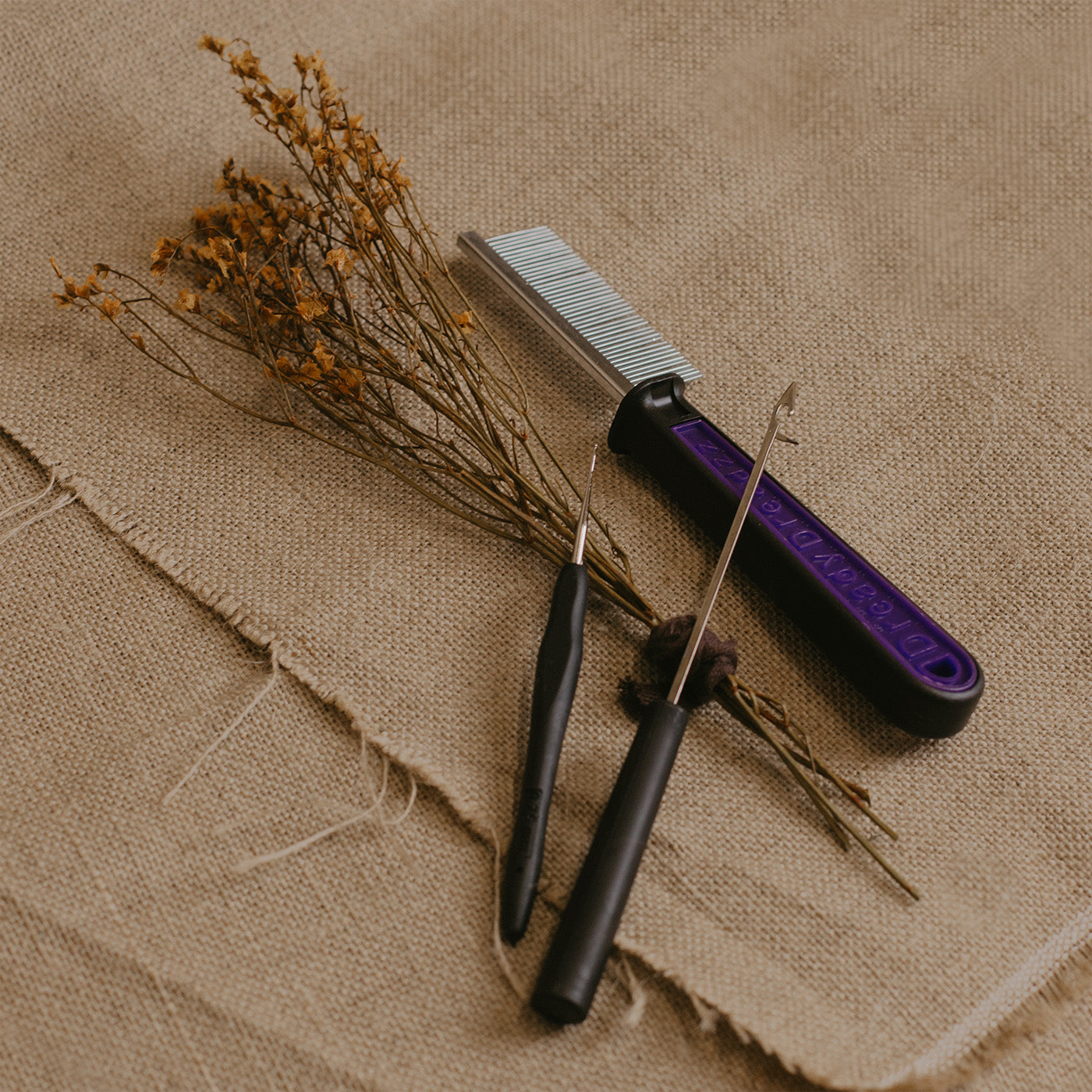 Dread Tools: from Crochet Hook to Comb
Qualitative and functional. That is, when you ask a Dreadhead, what it's mainly about when finding the right tools. With the right Dread Tools you can easily maintain your Real Dreadlocks, so that your Dreads will look perfect!
Are you looking for great Dread Tools? Then you've come to the right place with us! From crochet hooks, pin tail combs and a comb, to care products for your Dreadlocks, we have it all! Match your product choice to the maintenance on your Dreads or choose one of our Toolkits so that you immediately get all the products you need for maintaining your Real Dreads.