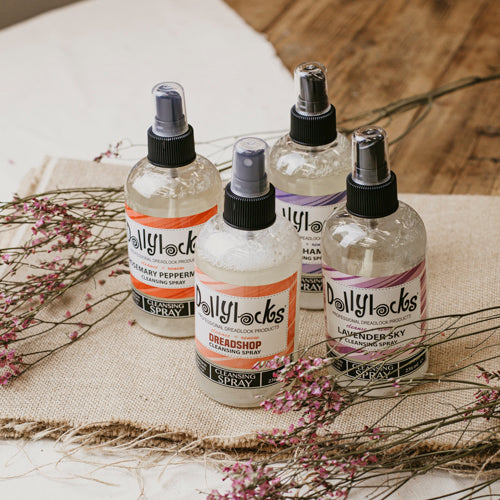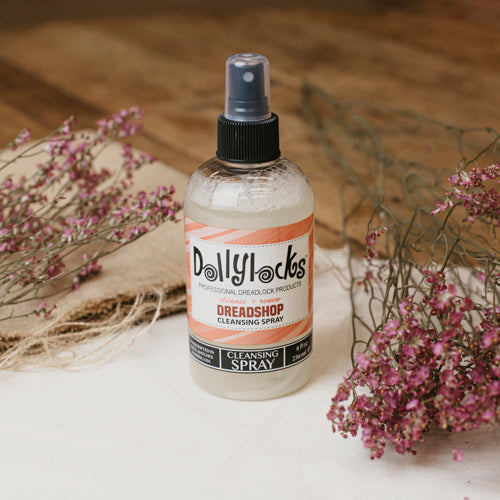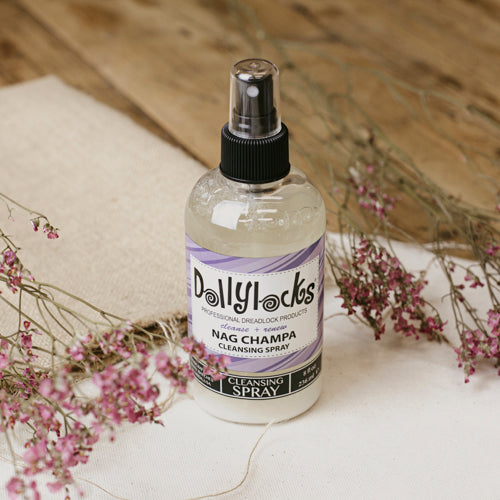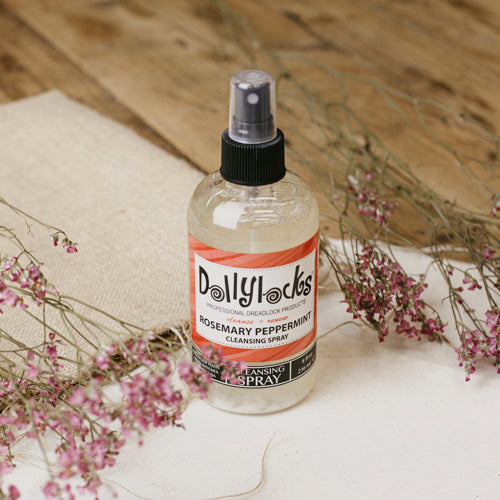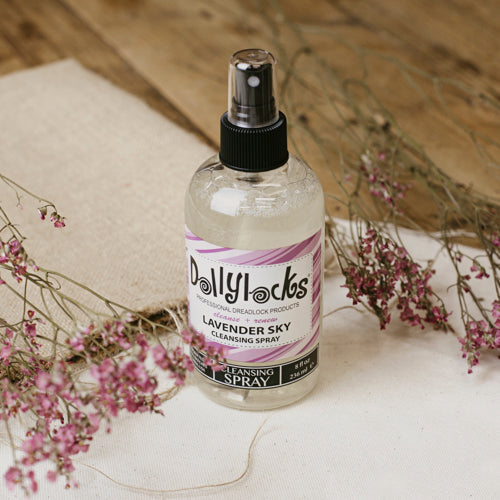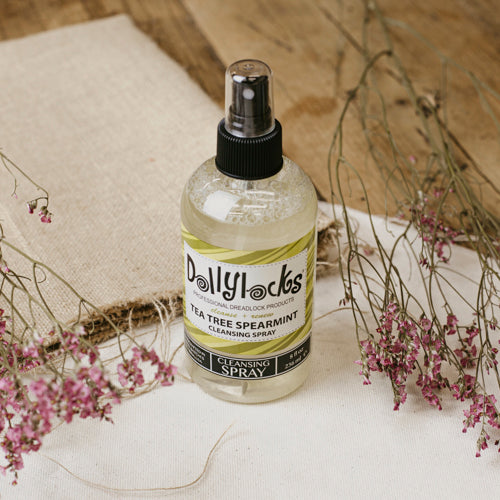 Dollylocks Cleansing Spray (Spray Shampoo)
Dreadlock Spray Shampoo
The Cleansing Spray / Spray Shampoo from Dollylocks makes your Dreads cleaner than clean!
Dreadshop has developed the perfect Cleansing Spray for you in collaboration with Dollylocks!
You will probably want to know why this Cleansing Spray is perfect, I'll explain it to you:
This Cleansing Spray is suitable for washing your Synthetic Dreads, but also for washing your Real Dreadlocks.
Besides that you can use the Cleansing Spray on wet and on dry Dreadlocks! So the Cleansing Spray is multifunctional.
By applying the shampoo with the sprayer it's very easy to distribute the shampoo evenly. The advantage of this is that you don't need a lot of shampoo, so you will save on that.
The shampoo cleanses and nourishes your hair and scalp.
Because you barely have to froth the shampoo you will have less frizzy Dreads as a result. And that is what we want!
Perfect for Loc Extensions
The Cleansing Spray is available in different scents. Scents you may know from other Dollylocks products. This will give a nice fresh feeling after washing!
How to use:
Before using the Cleansing Spray it's good to shake the bottle.
Then spray the Cleansing Spray on your dry or wet Dreadlocks and let it sit for a while. When you use the Cleansing Spray on dry Dreadlocks you don't have to do anything after that.
When you use the Cleansing Spray on wet dreads, rinse your Dreadlocks out thoroughly after that. 
<p>This Cleansing Spray is suitable for washing your Synthetic Dreads, but also for washing your Real Dreadlocks.&nbsp;</p><p>Besides that you can use the Cleansing Spray on wet and on dry Dreadlocks! So the Cleansing Spray is multifunctional.&nbsp;</p><p>&nbsp;</p><p>Content: 8 FL OZ / 236 ml&nbsp;</p><p>&nbsp;</p><p>Available in different scents:&nbsp;</p><ul><li>Nag Champa&nbsp;</li><li>Lavender Sky&nbsp;</li><li>Rosemary Peppermint&nbsp;</li><li>Dreadshop&nbsp;</li><li><p>Tea Tree Spearmint&nbsp;</p><p>&nbsp;</p><p>&nbsp;</p><p>Scents and ingredients:&nbsp;</p><p>Dreadshop Aqua (Water/Eau), Sodium Cocoate (Saponified Coconut Oil)*, Potassium Olivate (Saponified Olive Oil)*, Potassium Jojobate (Saponified Jojoba Oil)*, Glycerin, Cyamopsis Tetragonoloba (Guar Gum)* Rosmarinu Officinalis (Rosemary) Flower Extract, Aloe Barbadensis Leaf Juice*, Polysorbate 20, Citrus Grandis (Grapefruit) Seed Extract, Rosmarinus Officinalis (Rosemary) Leaf Oil, Mentha Viridis Leaf Oil (Spearmint), Cymbopogon Flexuosus (Lemongrass) Oil, Limonene, Linalool. *Derived from organic sources&nbsp;</p><p>&nbsp;</p><p>Nag Champa Aqua (Water/Eau), Sodium Cocoate (Saponified Coconut Oil)*, Potassium Olivate (Saponified Olive Oil)*, Potassium Jojobate (Saponified Jojoba Oil)*, Glycerin, Cyamopsis Tetragonoloba (Guar Gum)* Rosmarinus Officinalis (Rosemary) Flower Extract, Aloe Barbadensis Leaf Juice*, Polysorbate 20, Citrus Grandis (Grapefruit) Seed Extract, Parfum/Fragrance, Citrus Grandis (Grapefruit) Seed Extract*, Benzyl Benzoate, Linalool, Coumarin, Citronellol, Alpha-lsomethyl lonone. *Derived from organic sources.&nbsp;</p><p>&nbsp;</p><p>Tea Tree Spearmint Aqua (Water/Eau), Sodium Cocoate (Saponified Coconut Oil)*, Potassium Olivate (Saponified Olive Oil)*, Potassium Jojobate (Saponified Jojoba Oil)*, Glycerin, Cyamopsis Tetragonoloba (Guar Gum)* Rosmarinus Officinalis (Rosemary) Flower Extract, Aloe Barbadensis Leaf Juice*, Polysorbate 20, Citrus Grandis (Grapefruit) Seed Extract*, Melaleuca Alternifolia (Tea Tree) Leaf Oil, Mentha Viridis (Spearmint) Leaf Oil, Limonene. *Derived from organic sources.&nbsp;</p><p>&nbsp;</p><p>Rosemary Peppermint Aqua (Water/Eau), Sodium Cocoate (Saponified Coconut Oil)*, Potassium Olivate (Saponified Olive Oil)*, Potassium Jojobate (Saponified Jojoba Oil)*, Glycerin, Cyamopsis Tetragonoloba (Guar Gum)* Rosmarinus Officinalis (Rosemary) Flower Extract, Aloe Barbadensis Leaf Juice*, Polysorbate 20, Citrus Grandis (Grapefruit) Seed Extract, Rosmarinus Officinalis (Rosemary) Leaf Oil, Mentha Piperita (Peppermint) Oil, Limonene, Linalool. *Derived from organic sources.&nbsp;</p><p>&nbsp;</p><p>Lavender Sky Aqua (Water/Eau), Sodium Cocoate (Saponified Coconut Oil)*, Potassium Olivate (Saponified Olive Oil)*, Potassium Jojobate (Saponified Jojoba Oil)*, Glycerin, Cyamopsis Tetragonoloba (Guar Gum)* Rosmarinus Officinalis (Rosemary) Flower Extract, Aloe Barbadensis Leaf Juice*, Polysorbate 20, Citrus Grandis (Grapefruit) Seed Extract, Parfum/Fragrance, Citrus Aurantifolia (Lime) Oil, Mentha Piperita (Peppermint) Oil, Citral, Limonene, Linalool. *Derived from organic sources.</p></li></ul>
✓ Always shipped with Track & Trace information
✓ Shipped from the Netherlands

✓ Quality is priority number 1
✓ Average 4,9/5 in reviews
✓ Return period: 30 days