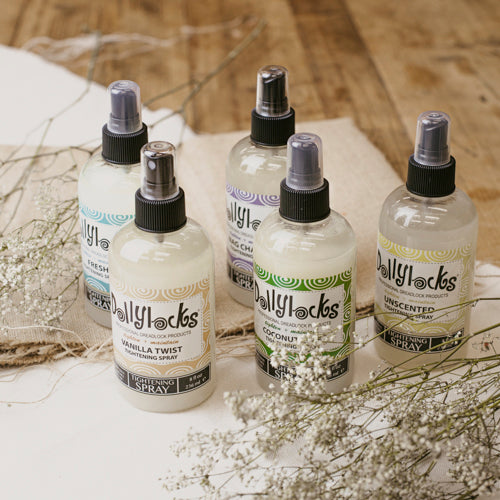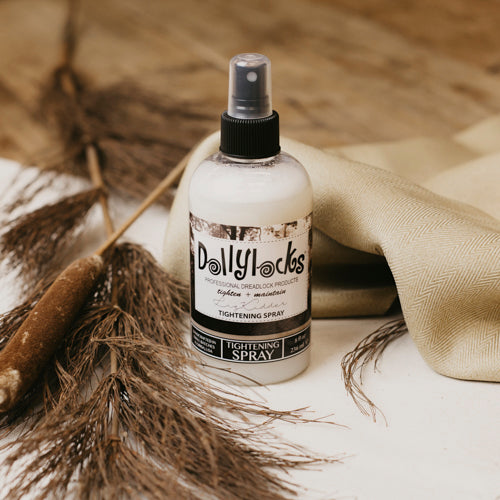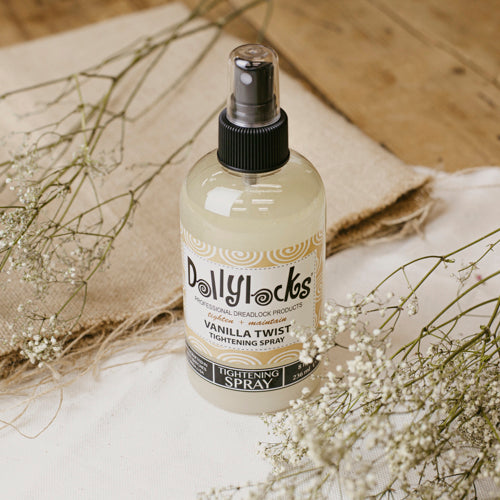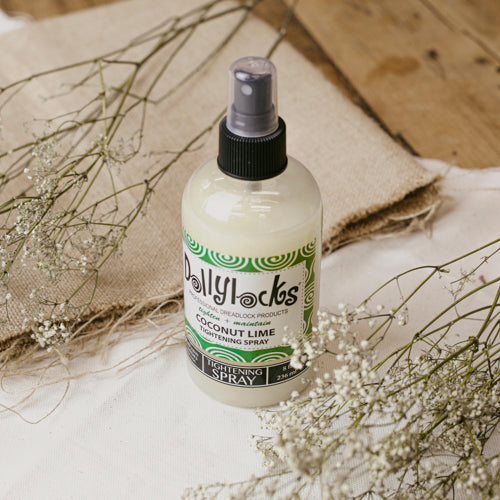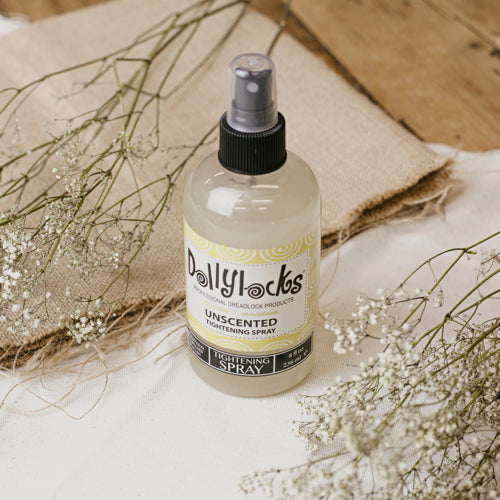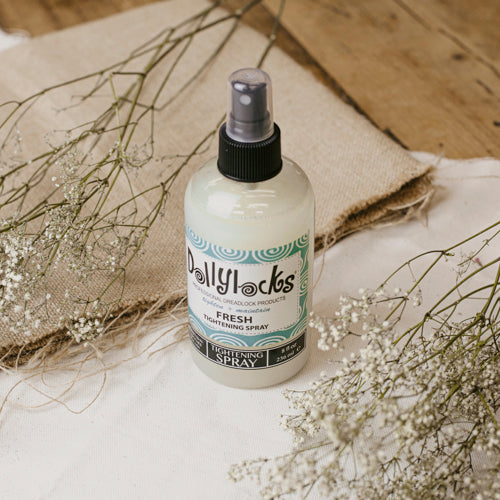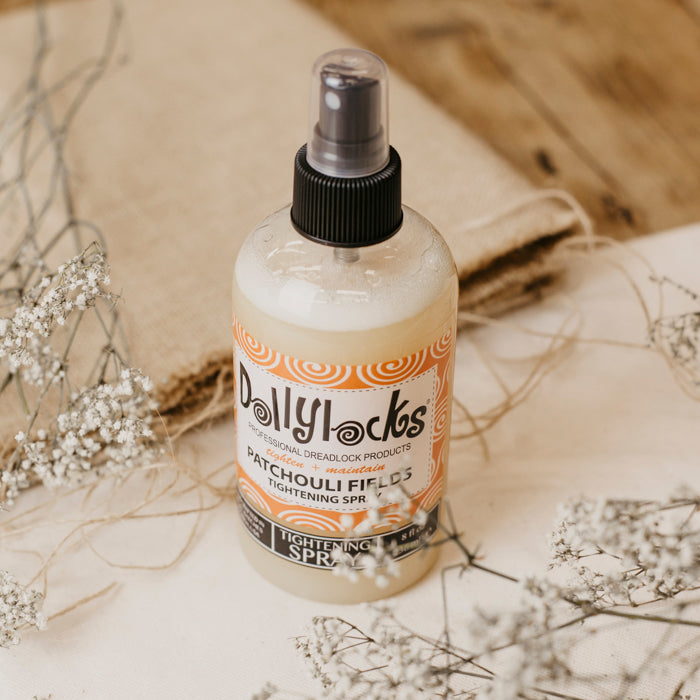 Dollylocks Tightening Spray
Make your Dreads tighter
The Tightening Spray from Dollylocks is perfect for caring for your scalp and Dreads! It also helps to make your Dreads tighter!
This Tightening Spray is especially developed for Dreads of your own hair and the ingredients are based on natural ingredients.
With the use of the Tightening Spray you will nourish the scalp and increase the hydration of your scalp. By caring for your scalp with this product it will help to prevent dandruff.
Shake the Tightening Spray before use.
Spray it on your Dreads (and your scalp) when you think this is necessary. 
When using the spray you can palmroll your Dreads to stick the loose hairs onto your Dreads. This way your Dreads will get tighter.
You can use the spray on dry of wet Dreads and on your scalp.
The Tightening Spray is available in different, fresh scents which will make your Dreads also smell really good!
With the use of the Tightening Spray you will nourish the scalp and increase the hydration of your scalp. By caring for your scalp with this product it will help to prevent dandruff.

Content: 8 FL OZ / 236 ml

Available in different scents:
- Nag Champa
- Patchouli Fields
- Fresh
- Unscented
- Vanilla Twist
- Coconut Lime
- Different Limited Editions

Coconut Lime:

Ingredients: Aqua (Water/Eau), Cocos Nucifera (Coconut) Fruit Powder*, Aloe Barbadensis Leaf*, Polysorbate 20, Sea Salt, Hydroxypropyl Starch Phosphate, Citric Acid, Hamamelis Virginiana (Witch Hazel) Water, Citrus Aurantifolia (Lime) Oil, Parfum/Fragrance, Citrus Grandis (Grapefruit) Seed Extract*, Persea Gratissima (Avocado) Oil, Ascorbic Acid, Simmondsia Chinensis (Jojoba) Seed Oil*, Avena Sativa (Oat) Kernel Protein, Limonene, Benzyl Benzoate, Eugenol, Citral, Benzyl Salicylate, Linalool, Geraniol.

*Derived from organic sources.

Fresh:

Ingredients: Aqua (Water/Eau), Cocos Nucifera (Coconut) Fruit Powder*, Aloe Barbadensis Leaf*, Polysorbate 20, Sea Salt, Hydroxypropyl Starch Phosphate, Parfum/Fragrance, Citric Acid, Hamamelis Virginiana (Witch Hazel) Water, Citrus Grandis (Grapefruit) Seed Extract*, Persea Gratissima (Avocado) Oil, Ascorbic Acid, Simmondsia Chinensis (Jojoba) Seed Oil*, Avena Sativa (Oat) Kernel Protein, Benzyl Benzoate, Butylphenyl Methylpropional, Limonene, Linalool, Hexyl Cinnamal, Citral, Geraniol, Citronellol.

*Derived from organic sources.

Nag Champa:

Ingredients: Aqua (Water/Eau), Cocos Nucifera (Coconut) Fruit Powder*, Aloe Barbadensis Leaf*, Polysorbate 20, Sea Salt, Hydroxypropyl Starch Phosphate, Citric Acid, Benzyl Benzoate, Parfum/Fragrance, Hamamelis Virginiana (Witch Hazel) Water, Citrus Grandis (Grapefruit) Seed Extract*, Persea Gratissima (Avocado) Oil, Ascorbic Acid, Simmondsia Chinensis (Jojoba) Seed Oil*, Avena Sativa (Oat) Kernel Protein, Citronellol, Coumarin, Alpha-Isomethyl Ionone, Linalool, Eugenol, Citral, Amyl Cinnamal, Benzyl Salicylate.

*Derived from organic sources.

Patchouli Fields:

Ingredients: Aqua (Water/Eau), Cocos Nucifera (Coconut) Fruit Powder*, Aloe Barbadensis Leaf*, Polysorbate 20, Sea Salt, Hydroxypropyl Starch Phosphate, Citric Acid, Hamamelis Virginiana (Witch Hazel) Water, Parfum/Fragrance, Pogostemon Cablin Leaf Oil, Aniba Rosaeodora (Rosewood) Oil, Citrus Grandis (Grapefruit) Seed Extract*, Cananga Odorata Flower Oil, Persea Gratissima (Avocado) Oil, Ascorbic Acid, Simmondsia Chinensis (Jojoba) Seed Oil*, Avena Sativa (Oat) Kernel Protein, Limonene, Linalool, Citronellol, Geraniol, Farnesol, Benzyl Salicylate, Benzyl Benzoate, Eugenol.

*Derived from organic sources.

Unscented:

Ingredients: Aqua (Water/Eau), Cocos Nucifera (Coconut) Fruit Powder*, Aloe Barbadensis Leaf*, Polysorbate 20, Sea Salt, Hydroxypropyl Starch Phosphate, Citric Acid, Persea Gratissima (Avocado) Oil, Hamamelis Virginiana (Witch Hazel) Water, Citrus Grandis (Grapefruit) Seed Extract*, Persea Gratissima (Avocado) Oil, Ascorbic Acid, Simmondsia Chinensis (Jojoba) Seed Oil*, Avena Sativa (Oat) Kernel Protein.

*Derived from organic sources.

Vanilla Twist:

Ingredients: Aqua (Water/Eau), Cocos Nucifera (Coconut) Fruit Powder*, Aloe Barbadensis Leaf*, Polysorbate 20, Sea Salt, Hydroxypropyl Starch Phosphate, Citric Acid, Parfum/Fragrance, Hamamelis Virginiana (Witch Hazel) Water, Citrus Grandis (Grapefruit) Seed Extract*, Persea Gratissima (Avocado) Oil, Ascorbic Acid, Simmondsia Chinensis (Jojoba) Seed Oil*, Avena Sativa (Oat) Kernel Protein, Benzyl Benzoate, Coumarin, Linalool.

*Derived from organic sources. Natural constituent of essentials oils listed.|
*Organic
✓ Always shipped with Track & Trace information
✓ Shipped from the Netherlands

✓ Quality is priority number 1
✓ Average 4,9/5 in reviews
✓ Return period: 30 days