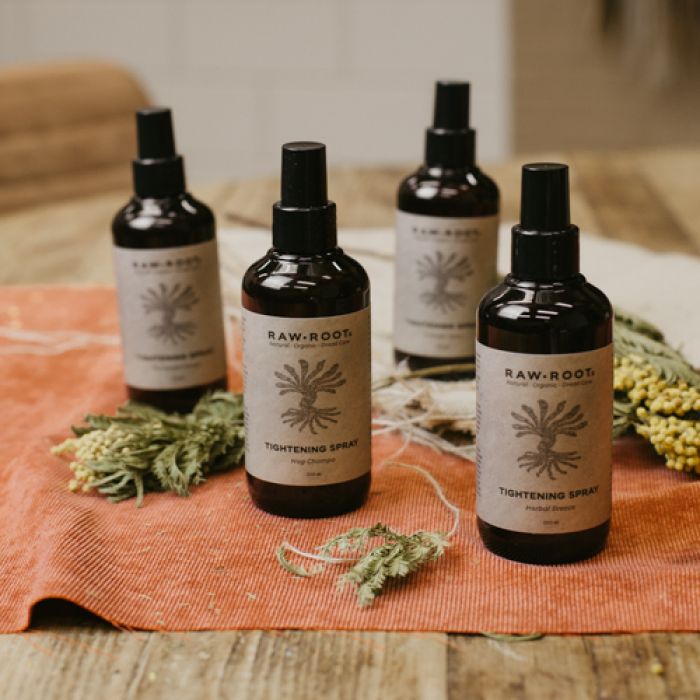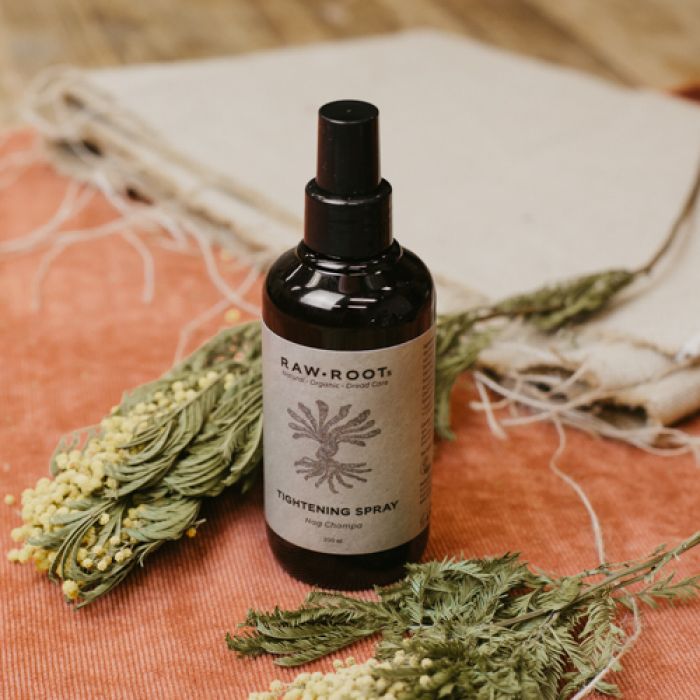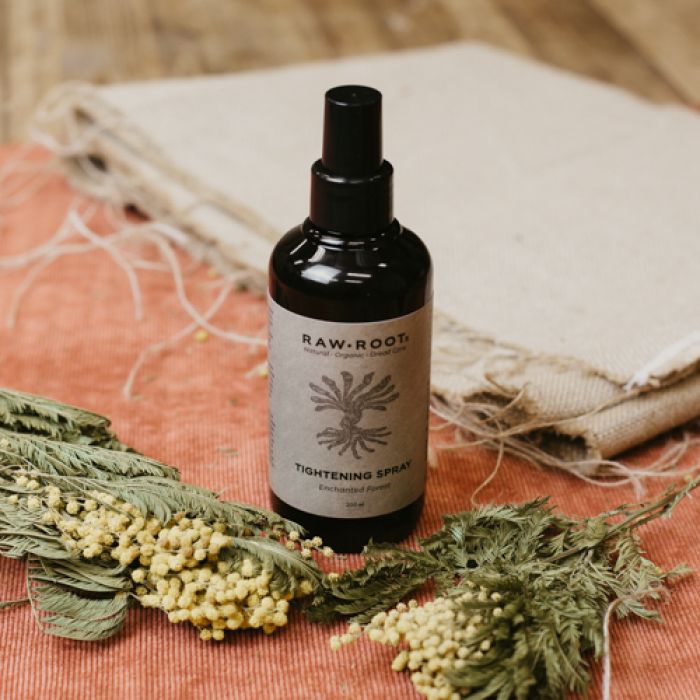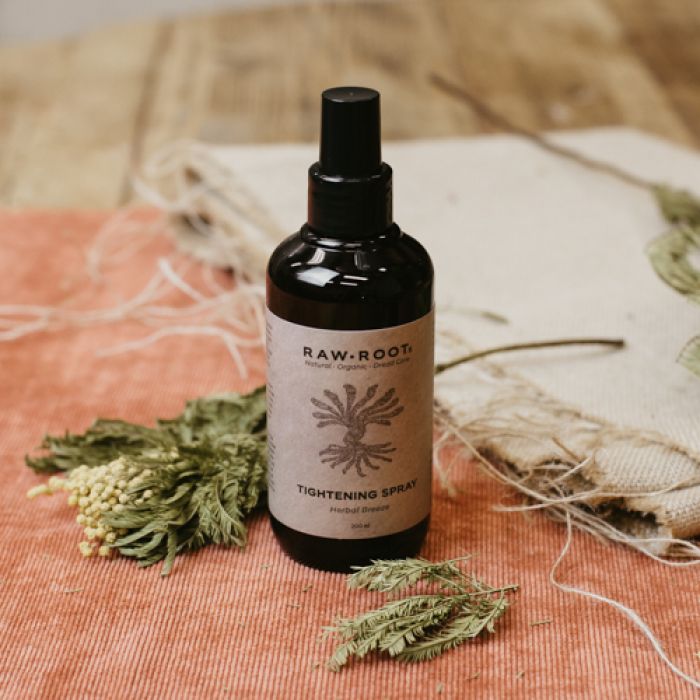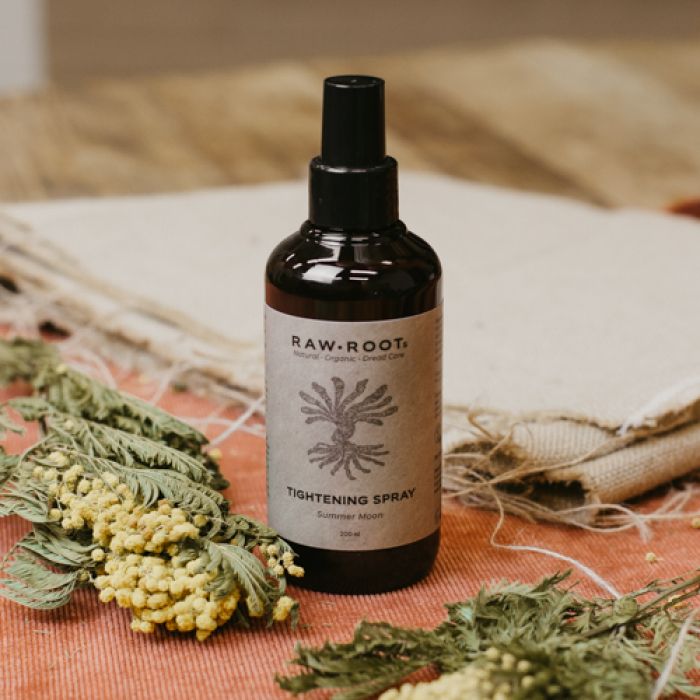 Raw Roots Tightening Spray
Perfect for creating and/or maintaining your Dreadlocks
The Tightening Spray from RAW ROOTs is perfect to use when you are going to make or maintain Dreads.
The Tightening Spray makes the hair more coarse which makes the Dread Process easier. Because your hair is more coarse, it will also frizz less quickly.
You can also use the Tightening Spray when palm rolling so that the loose hairs will stick to your Dreads.
Dreadlock care
Shake before use
Spray the Tightening Spray on freshly washed hair when you start making Dreads.
Let your hair/dreads dry or use a blow dryer to speed up this process. Only start palm rolling when your Dreads are completely dry.
Note; If your syringe gets clogged, rinse it with warm water.
Fragrance description:
Nag Champa: Floral, warm and earthy scent like the well-known incense scent
Enchanted Forest: Like a walk in the deep forest with essential oils of patchouli, cedar wood and sandalwood
Herbal Breeze: Refreshing peppermint, sage, tea tree and cedar wood scent
Summer Moon: Sweet, fruity and exotic with a floral heart
The Tightening Spray makes the hair more coarse which makes the Dread Process easier. Because your hair is more coarse, it will also frizz less quickly.

Content: 6.7 FL OZ / 200 ml

Available in different scents:
- Nag Champa
- Enchanted Forest
- Summer Moon
- Herbal Breeze

Ingredients:

Nag Champa: Aloe Barbadensis Leaf (Aloe Vera) Extract*, Camellia Sinensis Leaf (Green tea) Water*, Heptyl Glucoside (Sugar/Castor Seed Derived), Sodium Clolride (Sea Salt), Hydrolyzed Corn Starch, Urtica Dioca (Nettle) Extract*, Parfume, Sodium Benzoate and Potassium Sorbate (Preservation), Citric Acid. Amyl Cinnamal**, Benzyl Benzoate**, Citral**, Citronellol**, Coumarin**, Geraniol**, Hydroxycitronellal**, Limonene**, Linalool**. * Organic ingredients ** Constituent of fragrance oils listed

Enchanted Forest: Aloe Barbadensis Leaf (Aloe Vera) Extract*, Camellia Sinensis Leaf (Green tea) Water*, Heptyl Glucoside (Sugar/Castor Seed Derived), Sodium Clolride (Sea Salt), Hydrolyzed Corn Starch, Urtica Dioca (Nettle) Extract*, Pogostemon Cablin (Patchouli) Oil*, Cedrus Atlantica (Cedar) Wood Oil*, Amyris Balsamifera Bark (Sandalwood) Oil, Sodium Benzoate and Potassium Sorbate (Preservation), Citric Acid, Limonene**.

Summer Moon: Aloe Barbadensis Leaf (Aloe Vera) Extract*, Camellia Sinensis Leaf (Green Tea) Water*, Heptyl Glucoside (Sugar/Castor Seed Derived), Sodium Clolride (Sea Salt), Hydrolyzed Corn Starch, Urtica Dioca (Nettle) Extract*, Parfume**, Sodium Benzoate and Potassium Sorbate (Preservation), Citric Acid, Linalool**. * Organic ingredients ** Constituent of fragrances listed

Herbal Breeze: Aloe Barbadensis Leaf (Aloe Vera) Extract*, Camellia Sinensis Leaf (Green Tea) Water*, Heptyl Glucoside (Sugar/Castor Seed Derived), Sodium Clolride (Sea Salt), Hydrolyzed Corn Starch, Urtica Dioca (Nettle) Extract*, Mentha Piperita (Peppermint) Oil*, Salvia Officinalis (Sage) Leaf Oil*, Cedrus Atlantica (Cedar) Wood Oil*, Melaleuca Alternifolia (Tea Tree) Leaf Oil*, Limonene**, Linalool**, Menthol**, Sodium Benzoate, Citric Acid. * Organic ingredients ** Natural constituent of essential oils
✓ Always shipped with Track & Trace information
✓ Shipped from the Netherlands

✓ Quality is priority number 1
✓ Average 4,9/5 in reviews
✓ Return period: 30 days