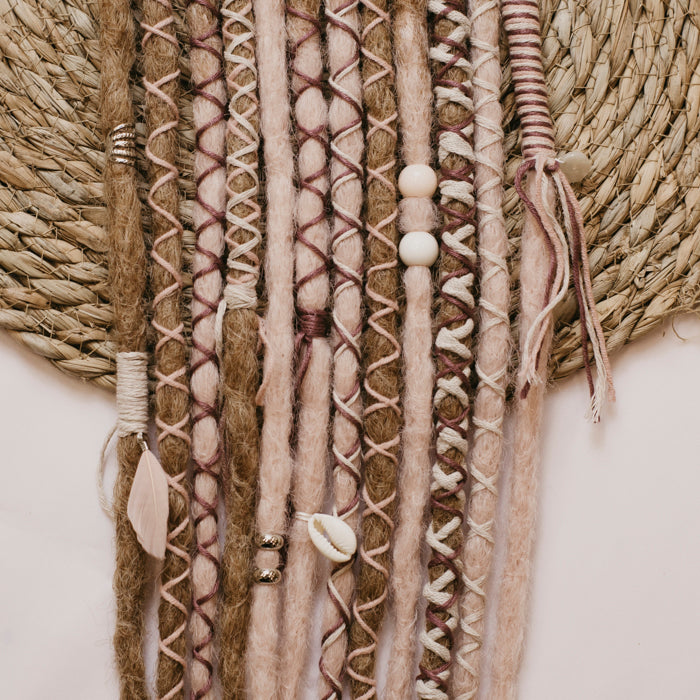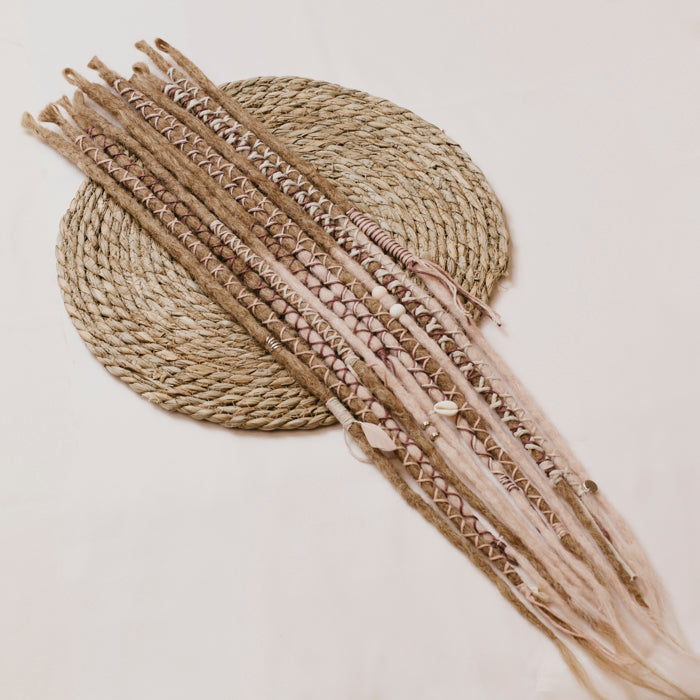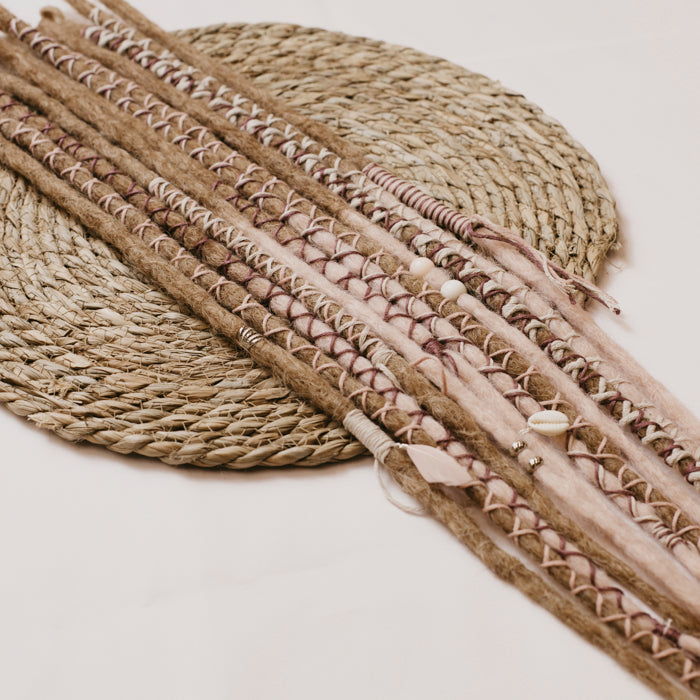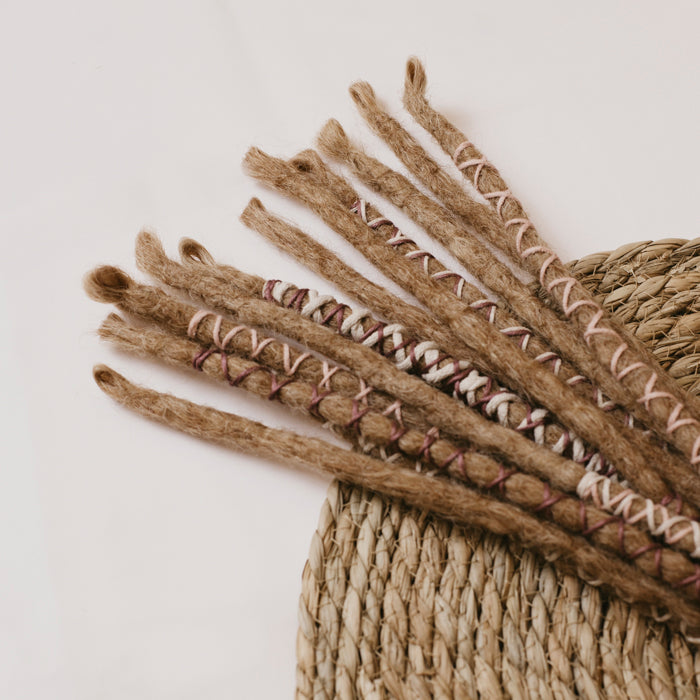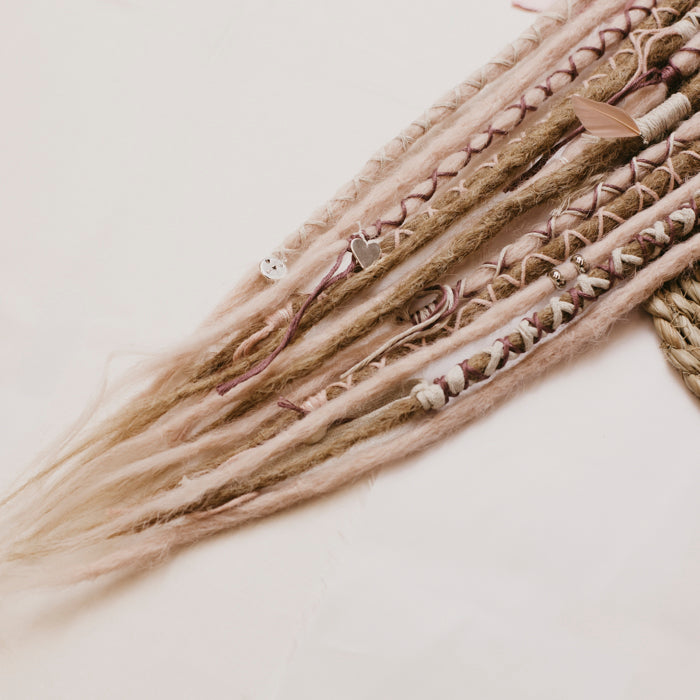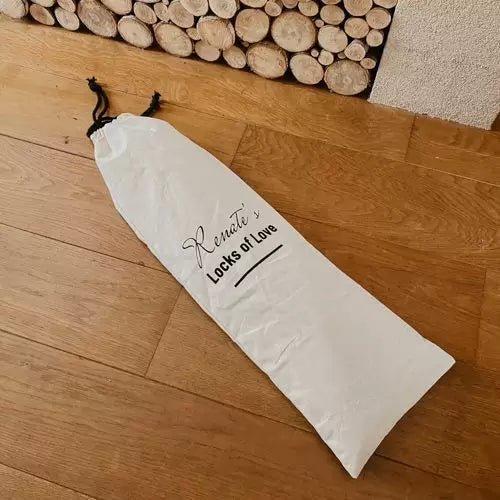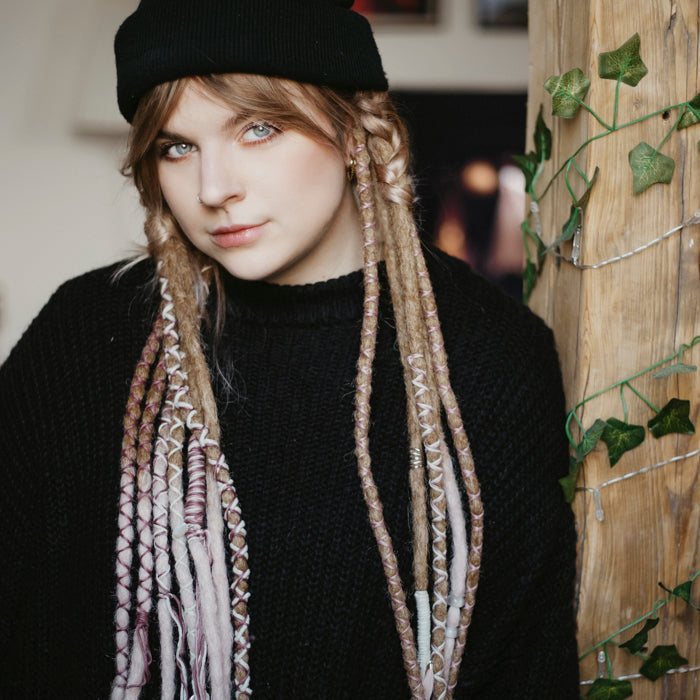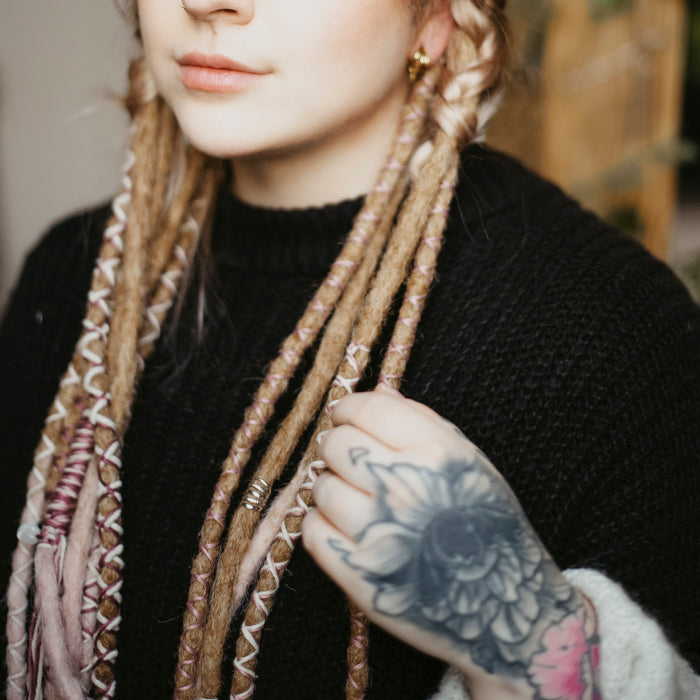 Perfect for Partial Dreads
This Accent Dreads Pearly is completely inspired by the Renate's Locks of Love color Pearly D. The color is developed by Daniëlle, where she combines the natural top color Dark Blonde with a soft pearly pink.
In this set you will find a mix of Pearly D and Dark Blonde Renate's Locks of Love, decorated with high quality yarn, beads and charms. 
This Accent Set, completely handmade by us, can be worn in different ways, for example as Partial Dreads. But of course this Accent Set is also nice between other Locks of Love or can easily be added to your own Dreadlocks, to create your own style even more and/or add extra volume. More information and explanation about this? We have it for you!
The Accent Set is washable and can therefore be reused countless times.
Details:
This Accent Set consists of 12 Single Ended Dreadlocks.
All our Dreads are made of high quality Henlon hair without chemical coating.
You will also receive a beautiful Storage Bag, which is super handy when you are not wearing your Locks of Love for a while. You can easily store your Dreads in this Storage Bag and in doing so you also keep your Synthetic Dreads dust-free. 
All our Accent Sets are limited editions, so this set is only available for a limited time.
It is also possible to have this Accent Set installed in our Salon.

To inspire you we have created this Accent Set for you. You will receive this complete set of Dreads, decorated with yarn, beads and or charms.

This Accent Set contains 12 Single Ended Dreadlocks.

This Accent Set is custom made. Please note that the preordered Accent Sets can't be shipped out the same day. We need 4 to 7 days to create your beautiful Set.
Synthetic Dreads can be worn for about 2 months.
Proper care of your scalp is very pleasant and important when you wear Synthetic Dreads, because then you will enjoy your Dreads even more!

You will need a:
- Cleansing Spray
- Refreshening Spray
✓ Always shipped with Track & Trace information
✓ Shipped from the Netherlands

✓ Quality is priority number 1
✓ Average 4,9/5 in reviews
✓ Return period: 30 days

This set can only be returned as a complete package including the accessories. It is not possible to return parts of this set.