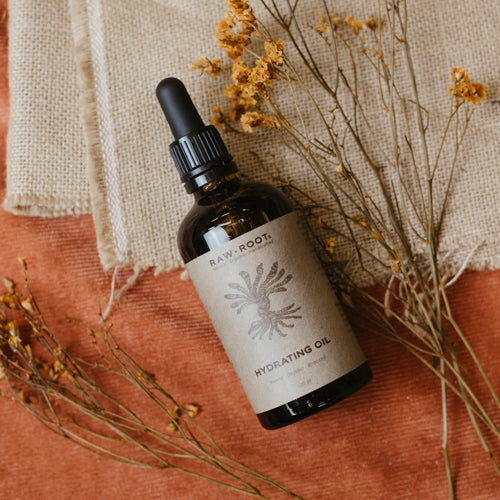 RAW ROOTs Dreadlock Hydrating Oil
Re-stocking on December 14, 2023
Intensive care for scalp
100% organic
Moisturizes dry Dreadlocks
Stimulates blood circulation
Antiseptic and counteracts fungi and bacteria
Restores the natural balance of the scalp and relieves and prevents dandruff, itching, dryness or flaking scalp and other skin irritations.
Moisturizes, strengthens and protects dry dreadlocks.
The base of this oil is pure organic and vegetable oils with essential fatty acids which are necessary for the skin to function optimally.
The scent of this oil is wonderful! It smells like a walk deep in the forest!
How to use:
For use on the scalp:
Spread the oil with the pointed spout directly on the scalp, lightly massage and let it sit for a half to 2 hours before the hair is washed with shampoo.
For use in the lengths and tips:
Apply a few drops of oil between your hands and spread easily through the hair. Use on damp hair for best result.
TIP: Use it as a luxury body oil or if you have problems with dry skin, eczema or psoriasis. Apply after bath or on damp skin, it nourishes the skin.
<p>Contents: Safflower oil *, Jojoba oil *, Evening Primrose Oil *, broccoli *, Sandalwood Oil *, Rave Sara Oil *, geranium *, Sunflower Oil *, Rosemary oil *. * Organic.&nbsp;</p><p>All ingredients are 100% organic.&nbsp;</p><p>&nbsp;</p><p>- 100% organic&nbsp;</p><p>- Moisturizes dry Dreadlocks&nbsp;</p><p>- Stimulates blood circulation&nbsp;</p><p>- Antiseptic and counteracts fungi and bacteria Restores the natural balance of the scalp and relieves and prevents dandruff, itching, dryness or flaking scalp and other skin irritations.&nbsp;</p><p>&nbsp;</p><p>Content: 3.4 FL OZ / 100 ml</p>
✓ Always shipped with Track & Trace information
✓ Shipped from the Netherlands

✓ Quality is priority number 1
✓ Average 4,9/5 in reviews
✓ Return period: 30 days