You never have enough elastics for Dreads!
You never have enough elastics. You sometimes lose one or perhaps one of your children chooses exactly your favorite elastic. In our range you will find different types of elastics. We have the roll-up elastics, these elastics are very good for making beautiful updos. Your updo will last all day with these elastics.
A Spiralock is one of our first accessories for Loc Extensions. An absolute must-have if you wear Dreads. A Spiralock is a bendable band with which you can always create the desired tightness for a ponytail, bun, braid or other updo.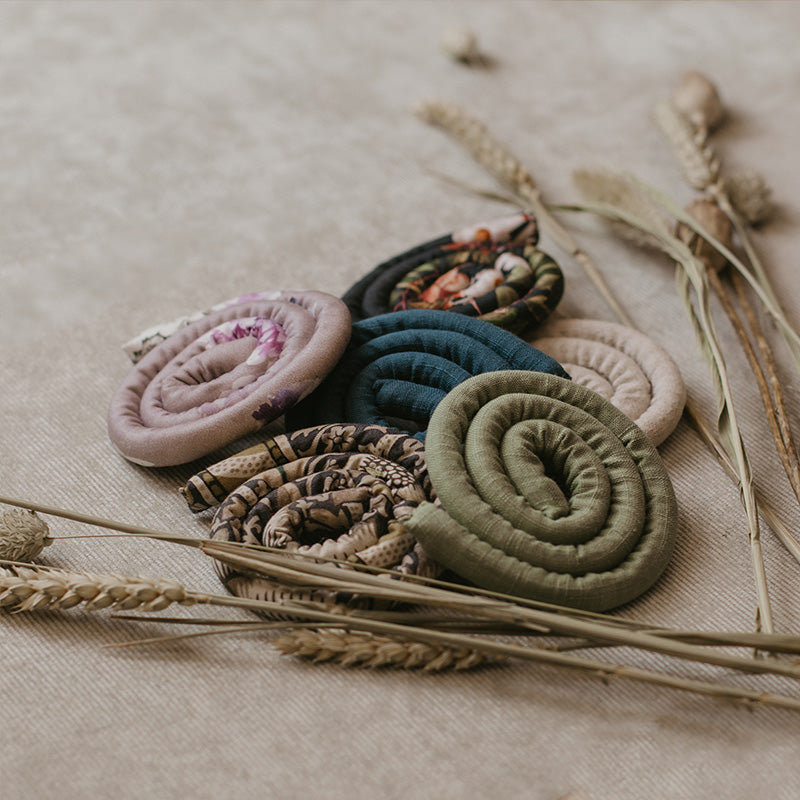 You will find the original SpiraLocks at our shop
Spiralocks was founded in 2011 at a kitchen table by Peta and Helen. Spiralocks are bendable elastics that shape your dreads into any desired shape. Both ladies started developing their product because they couldn't find anything that could really hold their dreads together.
Since 2017, the company has been outsourcing the production of their Spiralocks to underprivileged women in the remote village of Gunu, Fiji. With this Peta and Helen give underprivileged women work and with the money they earn, the villagers can invest in their future.
From the first moment we met Spiralocks at Dreadshop we were impressed by the Australian company. A further collaboration between Dreadshop and Spiralocks was therefore a logical next step for us.
Dreadshop is European Distributor of Spiralocks from 1 May 2020.
The Dreadshop sturdy elastics don't snap
The sturdy elastics, available in different colors, are of high quality and have been extensively tested by us. These sturdy elastics are also used in our salon.
The sturdy elastics are of high quality and are very sturdy. The elastics do not snap when using Synthetic Dreads. Even when wearing the elastics they do not snap.
The great thing is that you can order these elastics in different numbers.
Buy Dread elastics at Dreadshop.com
Do you want to make beautiful updos with your Dreadlocks? Then the use of a good elastic is important. In our range you will find different elastics that you can use when wearing Dreads. With these elastics you can enjoy your hairstyle all day long!
In addition to sturdy elastics, you can also find high-quality elastic bands in our range with which you can install your Dreads or Braids. You can order these rubber bands in different numbers, so it doesn't matter how many Dreads you have.